Each month at the Eternity Inc. Website, a new poll is released.
2012 polls
Edit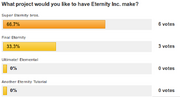 February's theme was: "What project would you like to have Eternity Inc. make? The results made no impact on the group, but gave the general idea as to what people were looking for. The winning option was Super Eternity Bros.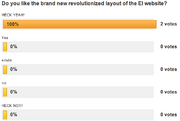 The theme of the march poll refected upon the recent occurrence of the Website Revolution, providing users with the following options
HECK YEAH!
Yes
Kinda
no
HECK NO!
The winning result was HECK YEAH, ultimately telling the team that the revolution had been a success. It was later archived, and can be found here
The April theme was "What should our mascot be?", providing users with the options to vote on their favorite animal of the five provided:
A dragon
A serpent
A liion
A bird
or A wolf
The poll resulted with the dragon option winning. The poll was later archived, and can be found here.
Ad blocker interference detected!
Wikia is a free-to-use site that makes money from advertising. We have a modified experience for viewers using ad blockers

Wikia is not accessible if you've made further modifications. Remove the custom ad blocker rule(s) and the page will load as expected.